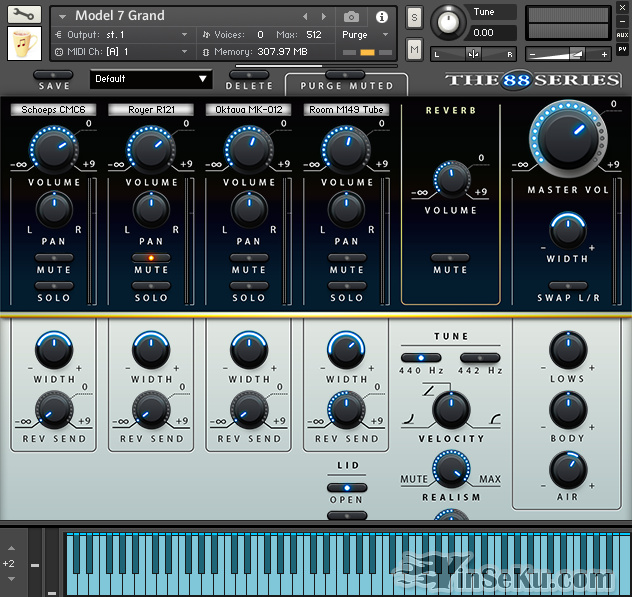 26GB
本套钢琴捆绑包包含以下四款音源:
The 88 Series – ElectricGrand [KONTAKT]
The 88 Series – Model 7 Grand [KONTAKT]
The 88 Series – Model D Grand [KONTAKT]
The 88 Series – Steinbach Upright [KONTAKT]
本套音源无需入库,直接KONTAKT加载音色使用
Chocolate Audio Releases The 88 Series Pianos Bundle For Kontakt And Launch Offer
The four libraries making up the bundle, a total of 26GB and 21240 samples, cover a wide range of styles and crafting methods, from acoustic grand pianos to upright and electric models.
The Model 7 Grand (from a '80s C7), Model D Grand (from a '30s vintage D274) and Steinbach Upright feature 4 separate microphone sources. The microphones available in the release were chosen among up to 12 different possible sources, all top-notch models and recorded with the shortest possible path to the converters, featuring Millennia, Neve, SSL and Focusrite preamps fed into Apogee converters at 96K. Additionally we chose the recording venue according to the pianos themselves: a studio with a large concert-like room for the grand codas and a studio with a medium-sized lively room for the upright piano.
The Model 80 Electric Grand (from a fully restored CP80) is a nice addition, being the only electric piano with proper piano hammer mechanics and a staple of the sound of popular music from the '70s and '80s.
***此处内容登录后可见***
温馨提示:此处为隐藏内容,需要登录后可见
登录查看
声明:本站所有资源均为网络收集仅供测试所用,如果喜欢请购买并支持正版,如若本站内容侵犯了原著者的合法权益,可联系我们进行处理。