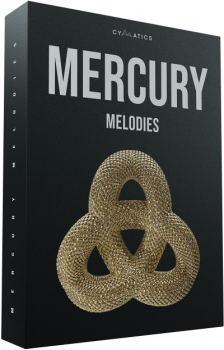 Mercury Production Suite + 4 exclusive bonuses
Mercury is a perfect example of how Cymatics melodies have evolved over the last year.
The production team has perfected a new approach to creating melody loops – which has led to some of our most popular packs of all time like Zodiac and Destiny.
Our large packs usually cost $200+, but we wanted to hook everyone up for Black Friday… so Mercury is only $50 for the next week!
Mercury has 100 professional composition loops that are sorted into 3 sections – Vintage, Lofi, and R&B
•Emphasis on live instruments like guitar, bass, drums/percussion, piano, vintage synths and more.
•Creating full compositions instead of just simple loops. This means every loop has multiple sections and interesting arrangements.
•Collaboration between our best producers and musicians, letting each one focus on their strengths to create the best possible samples.
•Live soul & RnB vocals on top many lot of the compositions
•Stems and MIDI are included with every loop. 100% royalty free.
Cymatics Mercury Melody Pack WAV MiDi (访问密码: 8912)
声明:本站所有资源均为网络收集仅供测试所用,如果喜欢请购买并支持正版,如若本站内容侵犯了原著者的合法权益,可联系我们进行处理。