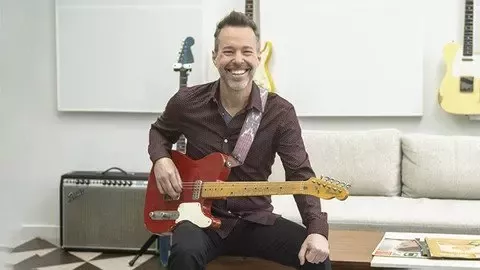 The Ultimate Beginners "How to" System to Playing Guitar
What you'll learn
Simplify the Learning Curve to Playing Guitar
Master Beginner and Intermediate Skills on the Guitar
Develop the Tools to Play Songs and Master Chords, Scales and Guitar Theory
Understand the MOST Essential Lessons That EVERY Guitarists Should Know
You Will Become a Guitar "Ninja"
Requirements
No Special Skills Needed
You Will Need a Guitar
Practice Can Not Be Avoided
Description
Would You Like to Master Your Guitar Skills Without the Struggle and Frustration that Most Guitar Players Encounter?
If You Are Looking for the Simplest and Easiest, Step-by-step Guitar Course to Follow and Actually See Major Results In Your Guitar Playing Then This is the Only Guitar Course You'll Ever Need.
There's no magic button or special pill but if you follow the videos in the order that they are provided then you will start to see major results very quickly.
97 lectures/videos with PDF attachments 10 hours of video It's available on a PC or MAC and there is an iPad, iPhone and Android app ready to go! (Android app is coming soon). Keeping track of which videos(lectures) you have already watched is a breeze. Udemy has a great way of keeping track of your completed lessons(lectures). The entire course is organized in step-by-step easy to follow layout
For some people 'time' is the problem when starting to learn the guitar. With this easy video course you'll be able to go at your own pace, practice when you have the time, and be able to track your results.
Erich's teachings are different than all of the other online teachers. He has made it super easy to be successful at playing guitar. All you have to do is follow the videos in order and put together some good practice habits.
Who is this guitar course for?
All Beginners Including Guitar Players That Feel Lost and Don't Quite Know Where to Begin Those Who are Frustrated With Their Pace of Learning That Desire a "fail proof" Step-by-step Method Any Players That Feel Like Their Personal Guitar Instructors Aren't "cutting it" For Them People That Think Their Hands Are to Small, Fingers Are to Fat, or That They Are Not "Talented"
Erich's Guitar Videos, Ebooks, Online Guitar Courses and Books Have Reached Millions of People All Around the World.
With More Than 60 Million Views on Youtube alone Nearly 30 Years Experience in Teaching and Playing Over 260,000 Youtube Subscribers
We all know you have to practice to become better at guitar.
Most teachers don't have a "plan" for beginners to follow for them to see actual results.
This course, and all of Erich's courses on Udemy, are laid out in a "no fail" order. So all you have to do is follow the videos in order and put your practice to good use.
Erich will teach you the correct techniques and exercises to incorporate into your practice so you begin to establish the Right Practice habits.
From picking up your first guitar to being able to jam out to songs that you have always dreamed about being able to play on the guitar THIS course will get you moving in the right direction.
Beginner to Intermediate and EVERYTHING in between!
97 Lectures and 10 hours of Video = $2500 Value PDF Attachments for Almost Every Lecture. "fail proof" if You Practice and Have a Determined Attitude
If you wanted to accumulate the same amount of one-on-one lessons equaled to 97 lectures, it would be 25 hours of lessons at $100 an hour, $2,500.00!
YOU don't have 25 hours at this moment nor do you have $2,500.00 for lessons. That used to be the Big Problem… until now!!!
This step by step is proven to work IF you follow the videos in the order that they are provided.
**Add 6 BONUS Videos** Over 45 Additional Minutes!
Introduction To Advanced Fingerpicking Module – Polyphonic Playing (2:46) Advanced Fingerpicking Module – Establishing Your Timing – Exercise 1, 2, 3 (4:44) Know The One Note That Makes A Chord Major Or Minor (8:04) Introduction To Blues Scale (10:46) Introduction To "Call and Response" Lead Playing Exercises (3:31) Call and Response for Beginner Lead Players (15:24)
Now it's time to get started!
It's only $95
And here's my, no questions asked, money back guarantee!
There's a 30 Day Money Back Guarantee
Is this course for you?
Honestly, I have know idea. And that's why we are offering a 30 day money back guarantee.
Scroll up and click the "Take This Course" button now.
WARNING: This course is NOT for the person who thinks by purchasing this course it will then magically give them all your guitar skills to you without you having to put the time, effort and practice. It does take practice if you want to see results. :)
Get Started Today
Overview
Section 1: Introduction – MUST Watch First!
Lecture 1 Introduction Video
Section 2: The CORE – Module 1 – Getting To Know Your Guitar
Lecture 2 Choosing an Acoustic Guitar
Lecture 3 Choosing an Electric Guitar
Lecture 4 Anatomy of the Acoustic Guitar
Lecture 5 Anatomy of the Electric Guitar
Lecture 6 Definitions We'll Need to Know
Lecture 7 Proper Posture and How to Hold the Pick
Section 3: The CORE – Module 2 – Getting Your Fingers Moving
Lecture 8 Introduction To The Physics of Sound
Lecture 9 Basic Picking Technique – The Pick Rest
Lecture 10 Basic Fretting Technique
Lecture 11 Naming the Notes on the Fretboard
Lecture 12 How To Read Tablature
Section 4: The CORE – Module 3 – Technical Know-How
Lecture 13 Dexterity Exercise 1
Lecture 14 Stacatto Vs Legato Technique
Lecture 15 How To Read Chord Stamps
Lecture 16 Tuning With A Tuner
Lecture 17 Basic Chord Technique
Section 5: The CORE – Module 4 – Secrets To Change Your Playing
Lecture 18 Curled Knuckle Technique – To Help With Chord Playing
Lecture 19 Advice and Encouragement
Lecture 20 9 Essential Chords
Lecture 21 Changing Chords – Transitions
Lecture 22 Basic Rhythm Lesson
Lecture 23 Basic Strum Technique and Exercises
Section 6: The CORE – Module 5 – Additional Tricks to Building Your "Core"
Lecture 24 Picks and How Different Gauges Effect Your Playing
Lecture 25 If You Are Still Having an Issue With Strumming
Lecture 26 Why Do You Want To Play Guitar
Lecture 27 Practice Schedule – How To Practice
Lecture 28 Guitar Care 101
Section 7: Solid Foundation – Module 1 – Upping Your "Game"
Lecture 29 Workouts For Your Hands Without a Guitar
Lecture 30 Talent vs. Practice
Lecture 31 Using The Thumb For Muting and Playing
Lecture 32 Inversions and "slash chords"
Lecture 33 Inversions You Will Use A Lot
Lecture 34 Construction of the Major Scale on a Single String
Section 8: Solid Foundation – Module 2 – Technical Must-Knows
Lecture 35 Introduction To Intervals
Lecture 36 How and When To Use A Capo (All about capos)
Lecture 37 Understanding Shuffle Rhythms
Lecture 38 Basic Music Reading For The Guitar – Musical Notation
Lecture 39 How To Read Chord Charts
Section 9: Solid Foundation – Module 3 – Liberating Your Playing
Lecture 40 Basic Electric Guitar Settings Part 1
Lecture 41 Basic Electric Guitar Settings Part 2
Lecture 42 How To Learn & Practice a Song Step-By-Step – Amazing Grace
Lecture 43 How To Tune The Guitar To Itself
Lecture 44 The Looping and Chunking Techniques – Ninja Methods For Getting Massive Results In Your Playing
Lecture 45 Slow It Down! Break It Down!
Section 10: Technique – Module 1 – Ninja Techniques
Lecture 46 Dexterity Exercise 2 – Ninja Fretting Hand Skills
Lecture 47 Chord Noodling
Lecture 48 Octave Technique
Lecture 49 Fretting Hand Muting
Lecture 50 Introduction to Playing By Ear
Section 11: Technique – Module 2 – Spicing Up Your Playing
Lecture 51 Adding a "Snare" To Your Strumming
Lecture 52 Introduction To Fingerpicking
Lecture 53 Pick or Strum Hand Muting For Spicing Up Your Playing
Lecture 54 Fingerpicking Harpsichord Technique
Section 12: Technique – Module 3 – Refining Your Musicianship
Lecture 55 Introduction To The Metronome – Improving Your Timing
Lecture 56 Inside Vs. Outside Fingerpicking
Lecture 57 Tuning By Harmonics
Lecture 58 How To Create A Reggae or Ska Rhythm Sound
Lecture 59 Hum and Hunt Ear-training Exercise
Section 13: Theory – Module 1 – Simple Number Tricks for Fretboard Mastery
Lecture 60 Stationary Springboards – Fretboard Knowledge
Lecture 61 Movable Springboards – Fretboard Knowledge
Lecture 62 "Magic Z" Pattern – Fretboard Mapping Logic and Theory
Lecture 63 Nashville Number System
Lecture 64 Introduction To Relative Major – Minor
Section 14: Chords – Module 1 – Build Instead of Memorize (Major Time Saving Know-How)
Lecture 65 Introduction To Chord Construction
Lecture 66 Construction of Triads: Major Chord
Lecture 67 Construction of Triads: Minor Chord
Lecture 68 Construction of Triads: Diminished Chord
Lecture 69 Construction of Triads: Augmented Chord
Lecture 70 Construction of Suspended 4th Chord
Section 15: Chords – Module 2 – Playing Chords Up The Neck (YOU CAN Play Bar Chords)
Lecture 71 Bar Chords: Understanding The Forms
Lecture 72 Bar Chords: Playing The Forms (fingering technique)
Lecture 73 Using the F Major Chord Forms To Help You Master Bar Chords
Section 16: Chords – Module 3 – Play Chords ALL Over The Neck Like The Pros Do
Lecture 74 Power Chords
Lecture 75 Intro To The CAGED System
Lecture 76 Practical Applications For The CAGED System
Lecture 77 Caged System – Advanced Exercises and Applications
Section 17: Scales – Module 1 – Movable Major Scale Forms For Lead Playing And Theory
Lecture 78 One-Octave 6 String Root Major Scale
Lecture 79 One-Octave 5th String Root Major Scale
Lecture 80 Two-Octave 6th String Root Major Scale
Lecture 81 Two-Octave 5th String Root Major Scale
Section 18: Scales – Module 2 – The Most Powerful Scale In The World
Lecture 82 Introduction To The Pentatonic Scale
Lecture 83 Introduction To The Major Pentatonic Scale
Lecture 84 Introduction To The Minor Pentatonic Scale
Section 19: Guitar Maintenance – Module 1 – Changing Strings
Lecture 85 Changing Strings – From Begining To End
Lecture 86 Clean String Cuts When Changing Strings
Section 20: Gear – Pedals You Should Get To Know
Lecture 87 Tuner Pedals For Your Live Rig
Lecture 88 Tremelo Pedals – How To Get That Old School Cowboy Guitar Effect
Lecture 89 Phaser Pedals – Get That Spacey Sound From the 70s and 90s
Lecture 90 Fuzz Pedals – When You Don't Want Crunchy Heavy Metal Distortion, but…
Lecture 91 Booster Pedals – A MUST Have For Lead Guitar Player's
Section 21: **BONUS VIDEOS** – OVER 45 MINUTES
Lecture 92 Introduction To Advanced Fingerpicking Module – Polyphonic Playing
Lecture 93 Advanced Fingerpicking Module – Establishing Your Timing – (Exercise 1, 2, 3)
Lecture 94 Know The One Note That Makes A Chord Major Or Minor
Lecture 95 Introduction To Blues Scale
Lecture 96 Introduction To "Call and Response" Lead Playing Exercises
Lecture 97 Call and Response for Beginner Lead Players
Section 22: Course Overview – Final Lecture
Lecture 98 Congratulations! Overview Video
All Beginners Including Guitar Players That Feel Lost and Don't Quite Know Where to Begin,Those Who are Frustrated With Their Pace of Learning That Desire a "fail proof" Step-by-step Method,Any Players That Feel Like Their Personal Guitar Instructors Aren't "cutting it" For Them,People That Think Their Hands Are to Small, Fingers Are to Fat, or That They Are Not "Talented"
---
Udemy Beginners Guide To Playing Guitar – Step-By-Step System (访问密码: 4885)
解压码:www.yinseku.com
声明:本站所有资源均为网络收集仅供测试所用,如果喜欢请购买并支持正版,如若本站内容侵犯了原著者的合法权益,可联系我们进行处理。