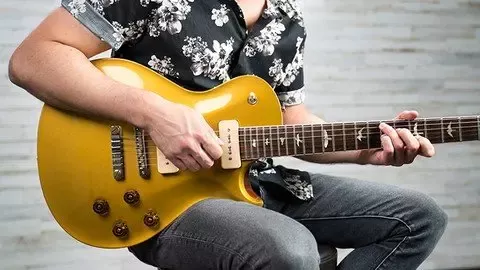 Blues Rhythm Guitar: Shuffle, Chords, Barre Chords: Electric Guitar or Acoustic Guitar
What you'll learn
Blues Rhythm Guitar
Blues Rhythm Guitar
Requirements
Some experience playing guitar
Description
Welcome to Intermediate Blues Rhythm Guitar! That's right, no fancy titles or gimmicks here…just straight up blues rhythm! I developed this course to be a direct companion to my Beginning Blues Rhythm Guitar. This course will be a natural progression from the basics you may already know and, will fully prepare you to play just about any blues song. The chords, grooves and concepts I teach in this course are ones that I continue to use to this day. Even though this is an Intermediate course, I'm confident you can use any of these ideas to play in a band, along side backing tracks, or even accompany yourself. Most players that want to play blues understand that you'll need to know many types of chord shapes. They also get confused as to when to incorporate 9th chords and riff based rhythms. I cover all of that in this course with the same type of thorough explanation you may have seen in Beginning Blues Rhythm Guitar! Here's what you'll get inside this comprehensive intermediate blues course:3.5 hours on-demand video

62 downloadable resources

Full lifetime access

Access on mobile and TV

Certificate of completion
Answers to any and all questions you have by myself (Corey) and other students in the program I'm excited for you to take this journey with me to becoming a better blues rhythm player. I'm extremely confident in the material and teaching as the blues are near and dear to me! Speaking of material, I've included the same backing tracks you'll hear in the examples as well as TABS and Transcriptions for all examples. Thanks so much for checking out this course and I look forward to helping you become a better blues rhythm guitarist!
Overview
Section 1: Introduction
Lecture 1 Introduction
Section 2: New Dominant 7 Chords!
Lecture 2 Inversion Explanation and A Shuffle
Lecture 3 E Straight
Lecture 4 D Shuffle
Lecture 5 G Shuffle
Lecture 6 C Straight
Section 3: 9th Chords, Slow Blues and more!
Lecture 7 12/8 Time
Lecture 8 A Slow
Lecture 9 A Slow 2
Lecture 10 E Slow
Lecture 11 D Funky
Lecture 12 G Shuffle
Lecture 13 Bb Swing
Lecture 14 A Shuffle
Lecture 15 E Straight
Lecture 16 D Shuffle
Lecture 17 B Straight
Section 4: Riff Based Rhythms
Lecture 18 A7 Shuffle
Lecture 19 G7 Shuffle
Lecture 20 E7 Straight
Section 5: Songs and Conclusion
Lecture 21 Kansas City – Key of C
Lecture 22 Everyday I Have the Blues – Key of Bb
Lecture 23 Walkin' By Myself – Conclusion
Intermediate Guitarists
---
Udemy Intermediate Blues Guitar Lessons Rhythm W Corey Congilio (访问密码: 4885)
解压码:www.yinseku.com
声明:本站所有资源均为网络收集仅供测试所用,如果喜欢请购买并支持正版,如若本站内容侵犯了原著者的合法权益,可联系我们进行处理。