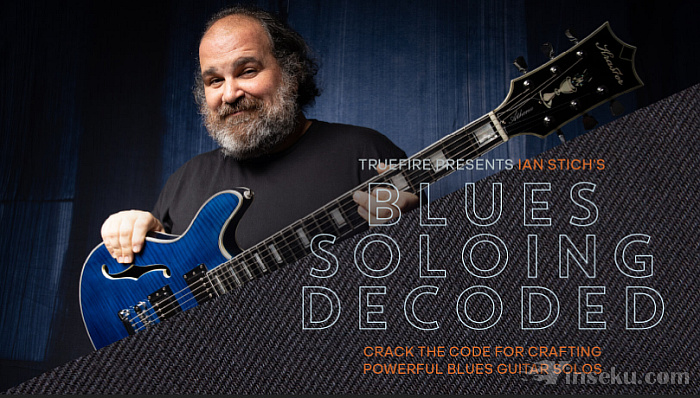 Crack The Code For Improvising Powerful Blues Guitar Solos
The quality and clarity of Ian Stich's teaching approaches have rightfully earned him massive praise and a huge following on his website and social media network. We're thrilled to welcome Ian to the family with his first TrueFire course, Blues Soloing Decoded!
"Have you ever wondered how your favorite blues guitar gods can blow your mind with their solos and wish you could do that as well? You might feel that you're missing a few pieces to the puzzle. Or maybe they are just naturally talented, and there's no way that you can take your guitar skills to that level?
I created this course to decode Blues Soloing, and give you all of the "missing pieces" so that you too can learn how to express yourself and craft compelling blues solos the same way your guitar heroes do.
I'll also show you tips for phrasing and creating your own licks, we'll deconstruct a blues solo to help you connect the dots, and finally, we'll even create one together, on the spot."
Ian will explain and demonstrate all of the blues approaches and techniques you need to take your solos and improvisations to the next level. He has a brilliant way of showing you how to layer them all up in one place, on the neck, to make it super easy to see his "code" in action. You'll get a solid grip on the 12-bar form, and the essential chord shapes, arpeggios and scales that you need to know.
You'll have all of TrueFire's advanced learning tools at your fingertips to personalize your workspace and learn at your own pace.
You can loop, slow down, or speed up any section of a lesson. Plus, all of the tabs and notation are synced to the videos for the optimal learning experience. You'll also get tab charts, standard notation, and Guitar Pro files, plus all of the backing tracks to practice with.
Grab your guitar, and let's unleash our blues chops with Ian Stich!
Truefire Ian Stich's Blues Soloing Decoded (访问密码: 4885)
解压码:www.yinseku.com
声明:本站所有资源均为网络收集仅供测试所用,如果喜欢请购买并支持正版,如若本站内容侵犯了原著者的合法权益,可联系我们进行处理。