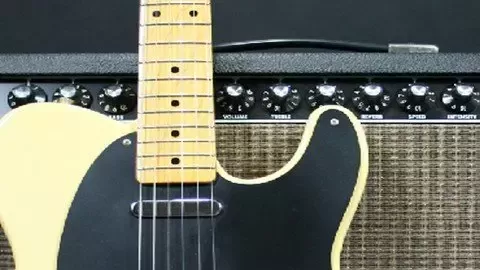 Learn How-To Play 35 Hot Country Guitar Licks
What you'll learn
Learn 35 different Country Licks before your next gig.
Learn a wealth of country guitar licks and techniques.
Complete with pdf TABs and MP3 Drum Tracks
39 Lectures and Over 90 Minutes of Content
Requirements
Computer/ Tablet/ Internet Connection
You will need a guitar
An open mind and a willingness to learn.
An open mind and a willingness to learn.
Description
Welcome to Turbocharged Country Guitar Licks. These aint your daddy's country guitar licks.When I was growing up, I was a fan of Licks Videos (back then they were on VHS tapes). I figured if I was able to get at least one cool lick that I could start using at gigs, then it was worth 100 times the price I paid for the video. But of course, With Turbocharged Country Guitar Licks I didn't want to give you just one useful lick in this course. So I loaded this 1hour & 34 minute course with 35 Turbocharged Chicken Pickin' Licks. And while these licks are all Hot & Flashy, they are quite easy to play so you should have most of these licks down before your next gig or recording session.In this course you'll learn:DoublestopsChicken Pickin'Rolling PatternsPull-Off LicksHammer-On LicksLicks inspired by Brad Paisley, Brent Mason, Dun Huff & Keith UrbanHaving a large Repertoire of Licks to choose from will allow you to easily Build Your Own Solos.
1 Hour & 34 Minutes: This course is packed full with Licks you can be using by this weekends gig.Shows You the Step-by-Step Process: Examples shown for each exercise & lick at Normal & Slow Speeds.PLUS It's easy to follow along with the PDF printable TABS!Right & Left Hand Close-Ups in Picture-in Picture Format: Close-up Shots for Easy Learning. A total of 3 camera angles. Left, Right & Center.Video Format for Accelerated Learning: Unlike private lessons, the Video format lets you Go at Your Own Pace and Allows You to watch as many times as it takes for You to Get It Down!MP3 Drum Tracks: Practice along with the included Drum Tracks at different tempos to help Build Speed and Improve Your Timing.You are back by Udemy's 30 Day money back guarantee. Click the green "Take This Course" Button to Get Started Today!
Overview
Section 1: Introduction
Lecture 1 Introduction
Section 2: Tone
Lecture 2 Tone – Setup
Section 3: Tabs & Drum Tracks
Lecture 3 Your Downloads
Section 4: Licks
Lecture 4 Lick #1
Lecture 5 Lick #2
Lecture 6 Lick #3
Lecture 7 Lick #4
Lecture 8 Lick #5
Lecture 9 Lick #6
Lecture 10 Lick #7
Lecture 11 Lick #8
Lecture 12 Lick #9
Lecture 13 Lick #10
Lecture 14 Lick #11
Lecture 15 Lick #12
Lecture 16 Lick #13
Lecture 17 Lick #14
Lecture 18 Lick #15
Lecture 19 Lick #16
Lecture 20 Lick # 17
Lecture 21 Lick #18
Lecture 22 Lick #19
Lecture 23 Lick #20
Lecture 24 Lick #21
Lecture 25 Lick #22
Lecture 26 Lick #23
Lecture 27 Lick #24
Lecture 28 Lick #25
Lecture 29 Lick #26
Lecture 30 Lick #27
Lecture 31 Lick #28
Lecture 32 Lick #29
Lecture 33 Lick #30
Lecture 34 Lick #31
Lecture 35 Lick #32
Lecture 36 Lick #33
Lecture 37 Lick #34
Lecture 38 Lick #35
Section 5: Conclusion
Lecture 39 That's a Wrap!
Any guitarist that want to add some Chicken Pickin' Licks to thier repertoire,If your an advanced guitarist, this course might not be for you.,Not for students expecting to learn specific songs.,Beggining Guitarist will also learn from this course
---
Udemy Turbocharged Country Guitar Licks (访问密码: 4885)
解压码:www.yinseku.com
声明:本站所有资源均为网络收集仅供测试所用,如果喜欢请购买并支持正版,如若本站内容侵犯了原著者的合法权益,可联系我们进行处理。